WHAT ARE THOSE FUNNY BAR-CODES?
You may have seen plenty of these strange looking square bar-codes around recently.
These "things" are called 'QR Codes', short for Quick Response Codes.
You will most likely be seeing them around a lot more too, with their purpose playing a larger role in the marketing strategy of many companies.
They are actually a really simple concept and not as scary as you think to implement.
I like to think of them as 'hyperlinks' in the real world. What's a hyperlink? When you click on a websites link and you end up at the next online destination.
Instead of using your mouse to point and click, you use your smart phone or other smart device to scan them. (You can download free Apps to do this.)
You will be taken via your device to whatever information the company wants to show you, whether it's a video, store process or a website.
If you think about it - it could be a great tool for your business.
You could simply create one and place it on a poster. Curiosity could get people scanning the image just to see where it takes them.
Or why not put one on your next promotional flyer or business card to direct the potential client to your companies website.
It certainly is a lot quicker than scrambling to type in the web address.
The potential is endless. Here are a couple of clever and practical uses.
Against a shop front for drive by scans!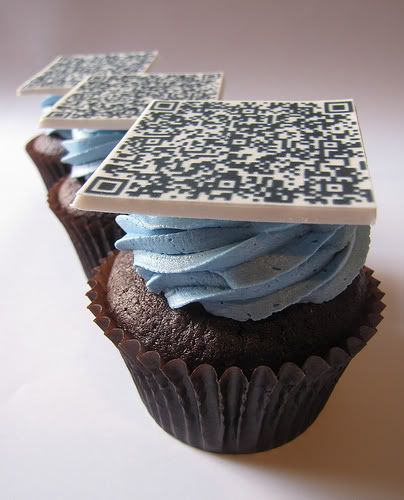 Edible QR Codes. (Great idea for a cafe)
If you want to know more about how to download the Apps or how to use one in your next design or print project contact us at HTH Design.